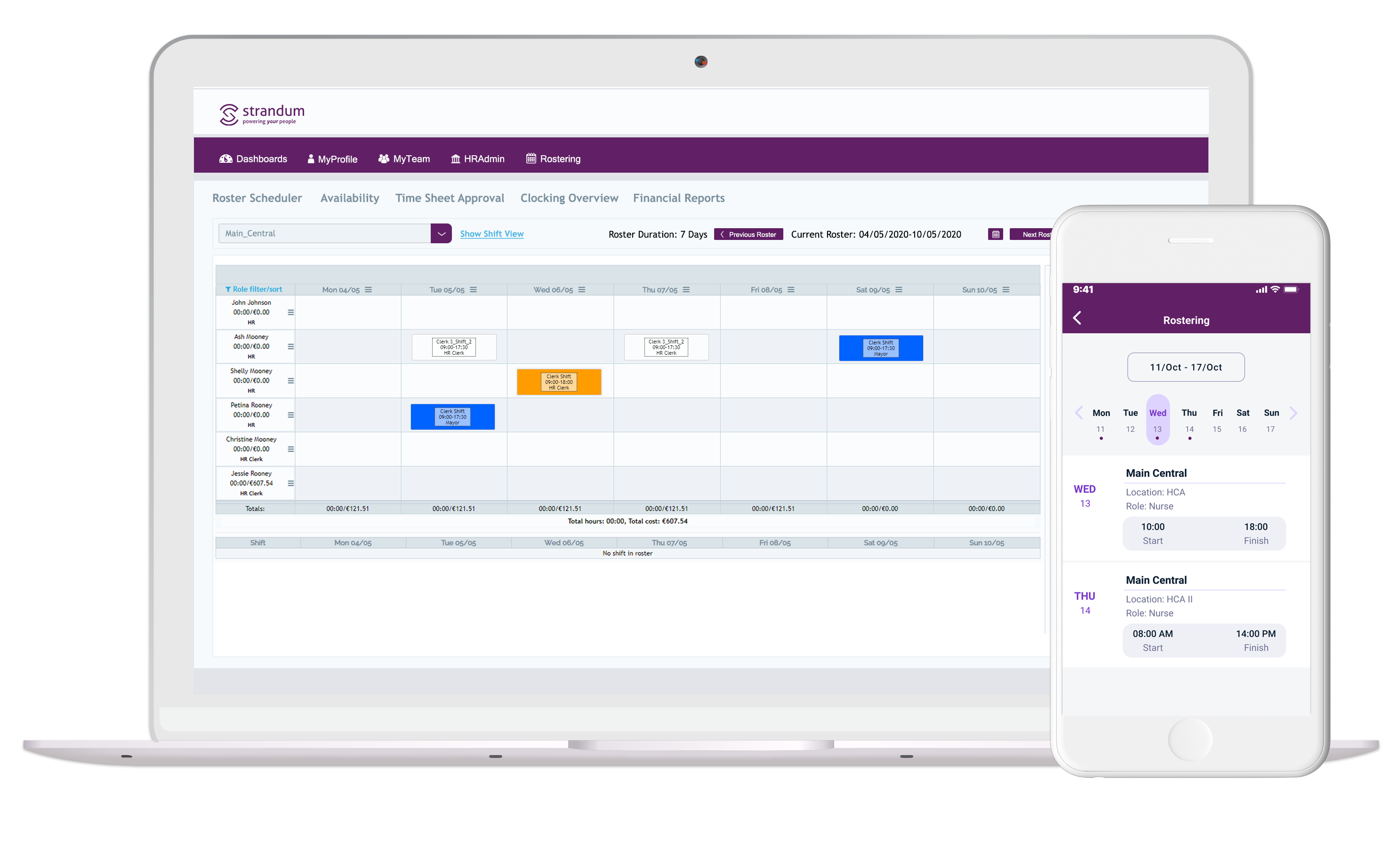 Comprehensive, Flexible Staff Scheduling
Strandum's Rostering software provides comprehensive, yet flexible staff scheduling functionality integrated into the Strandum application.
The rostering software enables you to quickly build rosters and publish them for employees to see on the employee dashboards or send them straight to their email. Set-up custom rules and shift requirements per role to ensure you are never short on staff. Roster Budgets can be set-up for each roster to track estimated costs vs actuals.
Set up as many locations as required for your company and give granular access to the personnel responsible for rosters.
Speed up the roster building process by creating and storing shifts in the shift pool, and copy and paste the shifts for separate days or the full week.
Time and Attendance and in fact the rest of the Strandum system are connected with the Rostering software, giving you visibility on information right there in the roster, such as Leave Requests and Sick Leaves.
Timesheet approval functionality is part of the Rostering Software. The timesheet approvals screen allows the administrator or manager to quickly approve the employee attendance based on their clock-ins against their roster.
Approvals screen shows the shifts assigned to employees on a per-day basis, with their respective clock-ins. The administrator can make adjustments for each employee if required and approve the day.
Approved times can be exported to feed a payroll system or an integration can be created to ensure that this is an automatic process.
What might take weeks to complete manually or through spreadsheets for companies with large numbers of employees on multiple shifts and in multiple locations will only take a couple of hours with the Strandum Rostering Software and integrated Time & Attendance.
Significantly increased Employee satisfaction, greater efficiency and accuracy in the HR and Payroll departments and absolute control of roster budgets are just some of the many benefits with Strandum Rostering.
Get More from Strandum HR
You'll be in Good Company