Strandum Launches New Website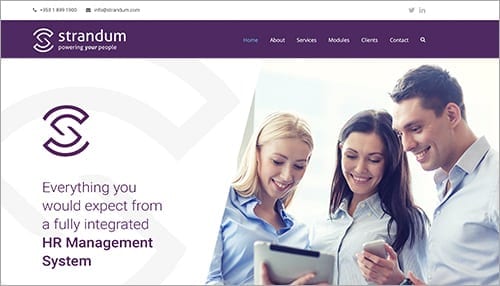 In support of the recent rebranding of Strandum including a new company logo plus revamping of all marketing material we have now launched a brand new responsive website.
Yes, there were a few discreet tears on Wednesday 28th November when our very familiar web site was closed down and replaced with our new responsive website.
For 16 years the original site served us well and brought many a prospective client to our attention. However with the introduction of so much more functionality,  new modules, multiple platforms within our HR software it was decided our web site needed to be significantly updated. We want to make sure that visitors get fast and easy access to whatever it is they are looking for. We want to encourage much more interaction, stimulate engagement and create a superior visitor experience.
Phase 1 has been launched with much more to add in the coming weeks and months.
Over the last number of months Strandum have been working closely with Hensman Design to ensure the new site achieves all our objectives. We are thrilled with the results and delighted with initial feedback.
Phase two of the ongoing site development commencing in early 2019 will include:
Regular HR Industry news feeds,
Private Strandum User portal, (Members area)
Strandum Academy page with details of up and coming training programs.
Interactive product demo's
Strandum Community updates ( Client events, Charity support, Social Outings and Strandum direct activities working with local NGO groups on their initiatives to support disadvantaged members of the community.
Please check in from time to time to check on our news and new content. Your feedback is invaluable to us.