The Irish Market Proves Profitable for New Investors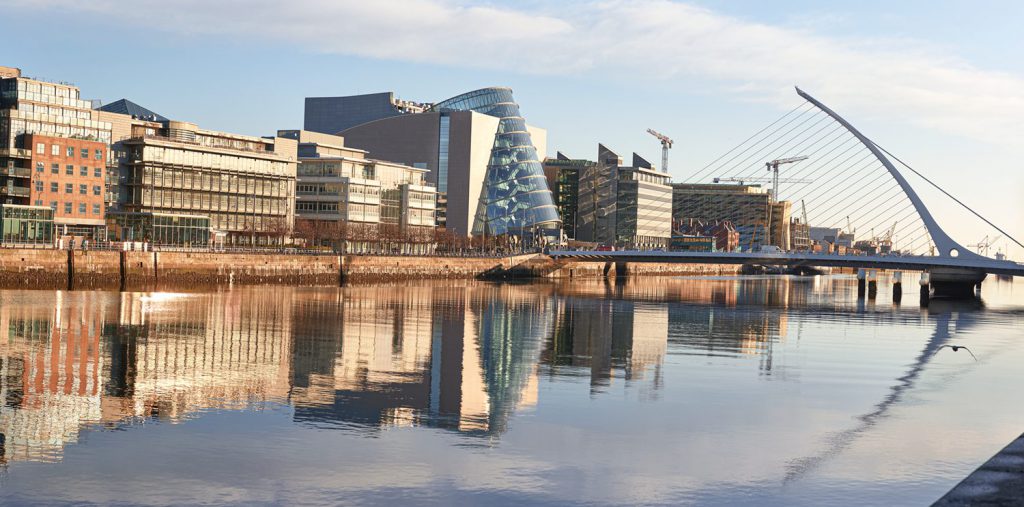 New Companies Investing in the Irish Market
The Irish Market continues to represent significant profitable opportunities for companies wanting to grow their business in Europe. Large companies such as Google, Facebook, and Amazon have already established regional headquarters (and a strong presence) in Dublin. However, these corporate giants as with SMEs face the same challenge of recruiting and onboarding a workforce to execute on these opportunities.
For instance, automating tedious workflow gives you time to review the rules and regulations included in Ireland's Employment Rights and Conditions. Even simple tasks, like initiating the first steps for onboarding a new employee, will allow you more time to concentrate on establishing your business presence.
In the next 5 minutes, you will learn about the companies investing in Ireland, the Irish Market, new investment opportunities, and the power of onboarding new hires with HR software.
Investing your Money in Ireland
Before you move to Ireland and set up your business, it's important to understand some key insights. Let's start with Ireland's Industrial Development Authority also known as IDA Ireland. This inward promotion agency is responsible for "the attraction and retention of inward foreign direct investment (FDI) into Ireland." If you're serious about investing money in Ireland, this is a great agency to get started with. IDA Ireland provides subscribers with up-to-date tax brochures, the latest facts about the Irish Market, and informative Email Alerts.

Additionally, Ireland's tax regime fully complies with OECD guidelines and EU competition law. This makes it one of the leading investment locations in the world. Some key factors include:

– Research and Development (R&D) tax credit of 25%
– Intellectual property (IP) regime and protections
– Zero tax rate for foreign dividends

New companies investing in Ireland have a lot of opportunities and competition. The phrase 'Invest Ireland' is a fluctuating topic widely searched on the Internet both local citizens and outside investors. 


The Irish Market

For over three decades, the corporate tax rate in Ireland has made the country a preferable enterprise environment and a global hotspot for some key Industry players. As a result, companies like Google and Facebook have established corporate offices right in the heart of Dublin. But what makes the Irish Market so appealing to new investors? Ireland's corporate tax rate is only 12.5%! To put this into perspective, Trading Economics compiled a 'List of Countries by Corporate Tax Rate'. Out of 160 countries, the average Corporate Tax Rate was 25.00 percent and Ireland ranked (140) in the lower percentile at 12.50 percent. 

Interestingly, from 1981 until 2019, the Corporate Tax Rate in Ireland averaged 27.81 percent with a record low of 12.50 percent in 2003. For those who are unaware, the Corporate Income tax rate is based on the "net income companies obtain while exercising their business activity, normally during one business year."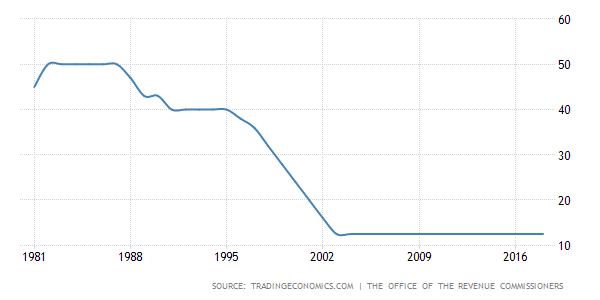 What are companies are investing in Ireland?

Dublin, the capital of the Republic of Ireland, has attracted a flood of new companies. Especially in the IT Industry. Corporate tech giants like Amazon, Facebook, and Google have taken over large portions of property in Dublin's City Center. ActiveCampaign, the most recent addition to Dublin, announced the opening of its company office in August. ActiveCampaign decided to establish a headquarters in Europe to advance its international customer base. 

"The company expects its Dublin presence to expand to more than 200 employees," states the IDA Ireland press release, "Initial hires will focus on support, sales, customer success, and marketing." This investment is supported by the Irish Government (through IDA Ireland) to further stimulates Dublin's economy. 


The Power of Onboarding New Hires with HR Software
Establishing your company in a different country comes with many challenges. Particularly when you need to fill all the vacant positions in your new workplace. Onboarding new hires with HR software simplifies the entire process. Furthermore, to gain a good rapport with new buyer demographics, it's a smart idea to invest your money into local businesses. This makes the software development company, Strandum Limited, the premier choice for HR software.
Since 2001, the Irish-owned company has developed a complete suite of Human Capital Management (HCM) software products and a history of working with blue-chip companies. Strandum HR helps companies manage their employees and keep track of every step involved in the onboarding process. So how does it work? Strandum's HR software automates New Hire workflows, creating a seamless transition between each step of the onboarding process. Some of the system benefits include:
Instant notifications to prepare team members for a new employee
New hire documentation automatically sent via email
Enhanced Human Resources (HR) productivity and efficiency
Seamless transition of new employees into their organisational roles
Keep in mind, onboarding new employees' includes more than signing a few legal documents and attending an orientation session. It's a long-term investment. Do you have any more questions about the onboarding process for new hires? We would love to keep you informed and provide answers to all your questions. Just leave your email or phone number below and we will contact you as soon as possible. It's that simple!

Above all, people want to invest in local businesses and fuel money into their country's economy. Support Ireland's leading HR software company and start powering your people today.